S.O.S.
This is a completely mundane post about a completely mundane thing. Hair.
I have this problem with my hair. It is super duper straight and super duper thick. I know people think this is a good thing, but my hair will do nothing. Forget those cute little flippy styles, or those volume infused layered confections a la Rachel Green. Nope. My hair just won't hold a style. Every time I have attempted to have an honest to goodness hairstyle, I ended up blowing and curling and volumizing and backcombing and spraying for so long my arms ached, only to have the damn thing fall flat two seconds after I left the bathroom. Then I wore a hat for three months until it grew out enough to pull back.
When I was a teenager, I used to spend HOURS getting my hair to look just so. I had this sort of Pat Benatar thing going on, and it required a lot of construction. But I just don't have the time or the energy to devote to hair anymore, and in a houseful of boys, there isn't much patience for primping. Not to mention, I spend most of the spring, summer and fall at the ballfield, with a cap on, so what's the point?
So now I am stuck in this self-perpetuating cycle that I am desperate to break out of. I get it cut it in a basic bob. Then, I let it grow until about the only thing I can do to keep the stuff out of my eyes and off my neck is twist it up in a clip. I live with it for a few months, and then I decide something must be done with the 4 ton pile of hair on my head, and I begin to buy every hair magazine available for about a month. I pore over them. I bookmark styles. I agonize. I choose. I make an appointment. And I chicken out and get my hair cut in a basic bob. Repeat.
The most sensible thing for me to do would be to get a short cut. But I don't have ultra feminine features and my face is very round. I have big cheeks and a strong jaw. I can't really carry off the pixie look anymore. I feel like a man with boobs in short hair. Plus, I cannot STAND to have hair in my face, so bangs present a problem.
So, I'm in stage two now, and stage 3 is looming on the horizon. I don't have much hope that I will be able to break the cycle. Plus, it's pool and baseball season again so...
SIGH. I will probably be one of those little old ladies who wears her hair in a bun or a coronet of braids for forty years. I'll be nominated for one of those "Look Twenty Years Younger" episodes of Oprah and then I'll have a fit when some guy named "Jorge" wants to cut it all off.
How unhip would it be to get a perm? Do people do that anymore? I think the last time I got a perm it cost roughly the same as my car payment. Still, it would be worth it to give some life to these locks of mine. And perms for long hair are pretty much wash and wear, right? Course my hair is so thick that the last time I got a perm I ended up looking like Roseanne Rosanna Danna, so maybe that's not such a good idea.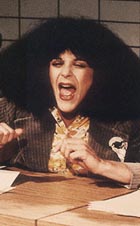 HELP.