Serenity...
...is not a complicated word, but it's a complicated concept. I think that serenity is difficult to find in the ever increasing pace of modern life. I know that it has eluded me during moments of desperate, searching need.
Yesterday, I found serenity in an unlikely place, at an unlikely time, in a throng of people, assaulted by the aroma of bodies marinated in the viscous Georgia heat, and air permeated by the redolence of a just opened tin of Fancy Feast.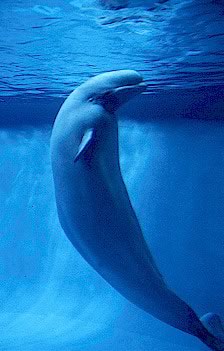 As I stood in front of a mammoth tank while strains of conspicously soothing music issued from speakers cleverly disguised as coral, I was mesmerized by the majesty of four Beluga whales. The crowds and the stench and the chaos receded and I was alone with these beautiful noble beasts. They played and cavorted and danced a sinuous ballet to music unheard by human ears; oblivious to all the woes that mankind has wrought upon the world beyond the watery womb of their concrete and glass abode.
I was overcome with a feeling I have rarely felt in my 37 years. Serenity. It felt profoundly good to realize that there are still creatures on this earth untouched by ugliness, unmarked by hate, untainted by greed and avarice and power. They were perfect and beautiful and innocent. They made my heart ache with gladness and they evoked a feeling of peace unlike any I have ever known, except that of watching my newborn children slumber.
I watched them until I could not convince my boys to linger any longer. They were also deeply affected by the huge and impossibly nimble animals, but their eagerness to see and do everything urged them on long before I was ready.
But it was no matter. The feeling lingered most of the day. Many hours later I still found myself smiling at their antics, marvelling at their grace, and revelling in the calm effected by their beauty and dignity. They are a panacea that no drug can rival.
I wonder how much it would cost to have a Beluga Whale tank installed in my living room. Perhaps my health insurance company could be persuaded to foot the bill under the auspices of preventive medicine. I think I'll write a letter.
If you live in Georgia, go to the
Georgia Aquarium
and visit the
Beluga whales
. They are amazing. If I had only seen that one exhibit, it would still be worth every penny spent on the price of admission. I think $21.06 is a small price to pay for Serenity.
(The
whale sharks
, Alice, Ralph, Trixie and Norton, are pretty incredible as well)