GULP....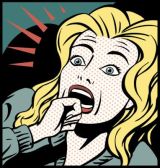 I have been invited to speak to a Women's Group about
Spiritual Lipstick
.
I am not a public speaker. I write okay but I don't talk too good.
I cannot stand up before a group of Women who are attending a conferenced geared toward personal fulfillment and empowerment and pretend that I have all the answers. Because, I so
don't
.
They will see right through me, I just know it.
And did I mention that this is a Christian Women's group?? Me, a
Godless Heathen
, addressing a Christian Women's Group.
A sinner
and
a hypocrite....((SIGH)). They're going to eat me alive.
What does one wear to a public humiliation? I don't think I have anything suitable. Where does one get a hair shirt these days? Wal-Mart?