The Importance of Being Earnest
The internet is a big place. It is peopled with with a dizzying array of staggeringly diverse individuals. That's a diplomatic way of saying that there are a whole lot of freaks navigating the information superhighway.
But freakishness is relative.
Quirky, eccentric, offbeat and kooky are all acceptable kinds of freaky. We view these people as interesting and colorful. We allow them their freakiness beccause it amuses us. We encourage their whacky ways because it adds vibrance and dimension to a world that is otherwise bland and lackluster in its sameness.
But then there is the Marilyn Manson tortured artist kind of freaky. His freakishness frightens us because it is sensual and alluring. His wickedness and blatant disregard for convention titillates us and makes us dream of forbidden things. This is the kind of freakishness that we disparage with our mouths, but yearn for in our hearts. It awakens the inner freak that we all fear, so we push it away and call it names.
And of course there is freakishness that is dark and malevolent. It lurks in the dark shadows of the internet, waiting for prey, feeding its aberrant desires with lurid imagery and decadent discourse. That is the kind of freaky that compels us to gaurd our children and lock our doors. Because we know that like everyone else on the internet, they are real people, living among us.
But every once in a while, we stumble upon a special kind of freaky. For reasons we don't quite understand, we are captivated and charmed. Perhaps it is the whimsy, perhaps it is the childlike joy that these people project. Perhaps it is their self-indulgent and carefree pursuit of that which makes them happy. Who among us doesn't admire that? Who among us isn't insanely jealous of someone who pursues their heart's desire with complete abandon?
I have recently run accross one such individual. Admittedly, my first thought was... "Wow, that is one fuh-reaky Dude." But I was drawn in, sucked in, really, to his amazing little world. I bet I spent an hour at his website just reading, looking at pictures and wondering what it was about him that fascinated me so.
As I read, I gained a lot of respect for him. He is living his life honestly. He is who he is and he makes no apologies. Nor does he hide behind socially accepted pretenses. His brand of freakishsness isn't hurting anyone. In fact he strives to make the world a better place by laboring to further acceptance and understanding for those who are not....conventional. He has founded a ministry through which these individuals can worship a God that others have said is off limits to them because of who they are.
His real name is
Randy Constan
, but he bills himself as the real life
Peter Pan
. And I have to wonder if he hasn't actually found the answer to staying forever young. The man is 50 years old and still looks to be in his late twenties. Perhaps its as simple as following your joy.
Is there any of us who couldn't use a little more of that in our lives? Whimsy...it does a body good.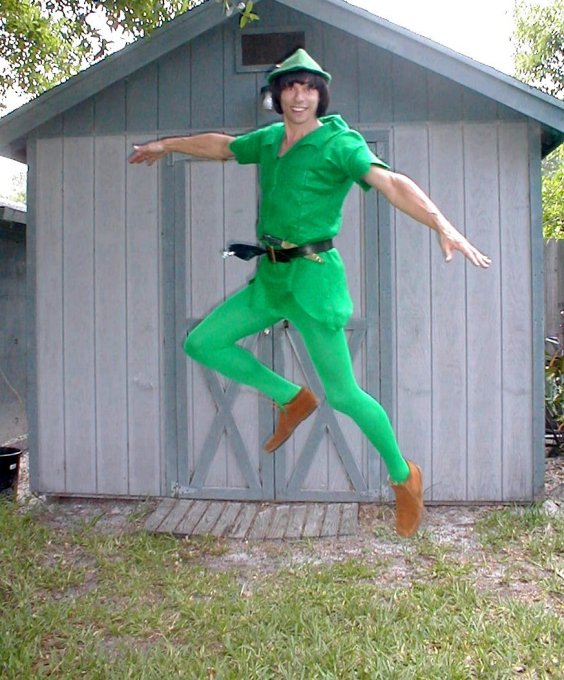 Visit
Pixieland
Today. Be sure to visit the
Fashion Pages
. And consider making a donation to his
Ministry
. It's not often that I encounter something worthy.
Afterthought:
He is also a spokesperson for Net Neutrality, which if course, is something that affects all of us. Check it out at
WearetheWeb.org