Laying Blame
Sometimes I wish my husband was a superficial lookist asshole.
One of my closest friend's husband is. He's always chiding her for what she eats, how she looks, and her lack of self-discipline. He is not discreet or discriminating with his remarks either. He thinks nothing of making comments such as "Perhaps the grilled chicken would be a better choice for you." when other people are present. He doesn't usually even have the decency to lower his voice.
I would have kicked him to the curb years ago, and that's the least of the reasons, but my friend has grown accostomed to it. I'm not sure she even realizes how disrespectful and demeaning his behavior is.
However, for the 12 years that I have known her, she has pretty much maintained a healthy weight. How could she not with the constant reminders and unrelenting criticism?
In 2005, I lost around 50-60 pounds. That's strictly a guess. I did not weigh myself because I was focusing on inches rather than pounds. Inches proved to be a more reliable indicator of progress for me, while watching the scale was demoralizing and discouraging. But I went from a size 22 to a size 12, and I was eyeing size 10 with aniticpation, counting the days until I could once again squeeze my multipara behind into my prepartum clothes.
In 2006, I became complacent and lazy and put quite a bit of it back on, although not quite all of it. I was able to slam the brakes on my indulgence and apathy before I had to graduate to plus sizes once again.
See...if I had a husband like my friend's husband, I probably wouldn't have allowed that to happen.
But noooooooo, not my husband. Instead, he has to be accepting, supportive, complimentary. He has to love me unconditionally. He has to tell me how beautiful I am and mean it. The bastard.
Even immediately post-partum, when my blissfully empty belly looked like an albino elephant's backend and my hugely swollen breasts were subject to bouts of sudden, unexpected bursts of jet propelled milk expulsion, much like that from a novelty lapel pin and during which, anybody standing near by was at risk of being drenched by an errant stream.
Even when I had such dark smudges under my eyes that it looked as if I was a victim of domestic violence. Even when I forgot to brush my hair and my teeth for days on end. Even when I smelled like a combination of sour milk, baby poop, and Preparation H.
He still fondled my behind, nuzzled my neck, and propositioned me regularly. The insensitive son of a bitch.
Un. Believable.
After Diminutive One was born, my body looked and felt completely alien to me. I would look in the mirror and marvel at just how thoroughly my pregnancies had ravaged me. Because I am very short, (5'4") and had very large babies (PPO, born at 34 weeks, weighed 6lbs, DO, born at full term, weighed 9lbs 5oz.) the muscles of my skin and stomach had borne the brunt and now told the tale.
Pregnancy, combined with many sleepless nights and worry over an infant born with a hole in his heart and a severe case of reflux, and, a successful attempt to quit smoking cold turkey at the beginning of my pregnancy...caused the pounds to pile on.
There was a pinnacle moment when Diminutive One was in Kindergarten that made me realize I had to do something about it. You can read about it
here
.
And I did.
I was so proud of myself. I had a healthier mental outlook, more energy. I felt strong, powerful. My body was no longer a prison, it was a well tuned machine. And I just let it go to hell.
After much thought, I've decided it is all my husband's fault for never telling me my ass was going to need it's own zipcode soon, or that my knees were growing moss due to the shadow my stomach cast upon them. The unreliable horse's ass.
But, it's okay. I've learned that I have to motivate myself, and that the only person for whom I can live a healthier lifestyle is myself. I can't do it to please him, or to fit society's ill-conceived and unrealistic standard of beauty. I have to do it for me, so that I can feel good and strong, and healthy.
But that's not to say that I don't rely on a little external motivation now and then.
I've recently started exercising again, and have achieved my first short term goal of six weeks of exercising every, single day. And I'm really proud of myself. I feel inspired, motivated, happy. I haven't seen any huge changes yet, but my pants are fitting better, my bras don't pinch my armpit fat anymore, and my stomach is slowly, slowly losing that elephantine quality. I think I can go the distance this time.
But...just to make sure, I've bought myself a little insurance.
Behold.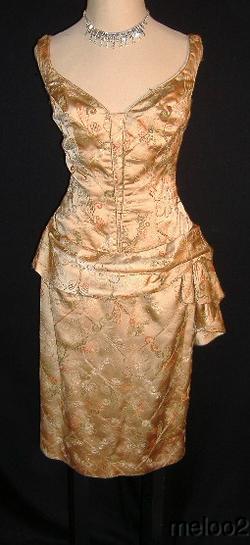 It's a circa 1950's Beaumelle Original wiggle dress.
I obviously have a thing for vintage clothing, but I haven't bought much because what point is there in having it if you can't wear it? Since my husband can't be bothered to tactless and critical, the this dress will serve as my inspiration.
And when I wear it to his semi-formal Christmas party, he'll just have to deal with all the other husbands staring at me. I just hope that for once, he can bring himself to be insanely jealous and ridiculously suspicious and act accordingly.
The trusting, level-headed jerkoff.