Misnomers
Webster says that a canal is a "a duct, tube, passageway", (ex: Alimentary canal) so I suppose in that respect, there is no techincial quibble.
However, typically, when one envisions a canal, one thinks of water. A body of water wide enough for a seafaring vessell to pass through, presumably, without being squeezed in a manner much like a navy bean being sucked through a drinking straw. This expanse is also presumably wide enough that said vessel does not cause structural damage to such a degree that the owner of the aforementioned canal, declares an embargo on any and all canal traffic, ever, until the end of time. Nor does it alter the dimensions of the canal so significantly, that smaller, more streamlined vessels flounder about, seeking purchase, lost and adrift.
Not so the human
"Birth Canal"
.
For that reason, I am submitting the following to the kind people at Webster's:
Dear Sirs,
I submit that the term "Birth Canal" is an egregious and misleading misnomer. I would like to respectfully request that the term be revised as follows:
"Birth Crevice"
I introduce the following visual aid to illustrate the great disparity in marginal boundaries and serve as further evidence to support my claim:
Suez Canal
VS.
Birth Canal
Thank you for your kind consideration.
Yours Truly,
B. Antagonist,
Canal/crevice owner and operator
~~~~~~~~~~~~~~~~~~~~~~~~~~~~~~~~~~~~~~~~~~~~~~
"Mid-Life Crisis"
Webster's Defines Mid Life Crisis as "a period of psychological doubt and anxiety that some people experience in middle age."
In my callous, ego-centric and myopic youth, I often chuckled derisively at the sight of a balding fiftiesh man nattily attired and driving a red hot muscle car down the ineterstate with the top down, heedless of his comb-over flapping comically in the wind; a banner proclaiming his dotage to the world. "Get a Life, Grandpa" I would mutter, more shaken than I cared to admit at the glaring reminder that youth is fleeting and mortality looms. I have death issues, you see.
If I had looked more closely, with more experienced eyes, and without the self absorption that is the hallmark of youth, I would have seen his smile of utter contentment and confident indifference. I would have seen someone high on life, and quite clearly not searching for his lost identity or mourning his misspent youth, but rather, enjoying the just rewards for a life of hard work and sacrifice.
In other words...that car is not a metaphor for anything other than the fact that for the first time in his life, he can afford the toys he has always dreamed of. He has no children bleeding him dry, his mortgage is paid, and his nest nicely feathered. He has the cash to buy what he wants, and he has the cahones to drive it with no excuses or apologies.
As I edge ever closer to forty, a prospect that would once have had me curled up in the fetal position with my thumb in my mouth, clutching a jar of Creme de La Mer to my weatherbeaten breast, I realize that it isn't middle age that's a time of crisis. On the contrary...as I get older, the easier things become. If I am honest I have to admit that while I certainly don't relish the thought of growing old, nor would I voluntarily return to those years of twenty something angst and uncertainty.
Its been a long time since I had to survive on condiment sandwiches and kool-aid until payday. Or wonder if that guy I'm seeing is going to disappear like a fart in the wind exactly 3 seconds after copulation. Or ponder why my new infant takes more comfort from the roar of the vacuum than the beat of his mother's heart, and why that feels like my fault. Undoubtedly, such tribulation built my character and forged me into the adult I am today, for which I am duly grateful.
But.....I'm kinda liking where I'm at. And I most assuredly am not experiencing any psychological doubt beyond whether I really have the butt for low rise boot cut jeans.
For that reason, I am submitting the following for the kind people at Webster's:
Dear Sirs:
I submit that the term "Mid-Life Crisis" is an egregious and misleading misnomer. I would like to respectfully request that it be revised as follows:
"Mid-life Respite"
I introduce the following visual aid to illustrate my point. Dude looks pretty happy to me.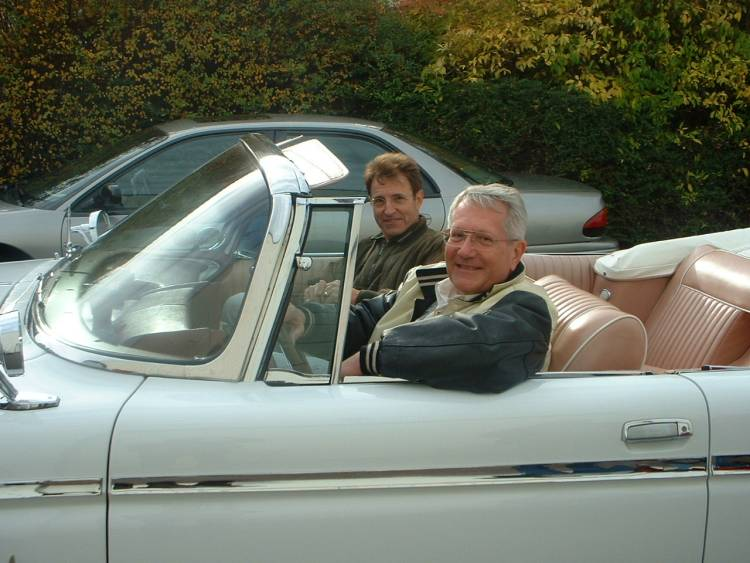 Thank you for your kind consideration of this matter.
Sincerely Yours,
B. Antagonist; eagerly awaiting Mid-Life Respite
~~~~~~~~~~~~~~~~~~~~~~~~~~~~~~~~~~~~~~~~~~~~
"Breast Enhancement"
Webster's says that to enhance is to "to make greater in value, beauty, or effectiveness" or "an improvement that makes something more agreeable".
Now, I'm sure there are any number of men out there who will certainly disagree with me, but frankly, I don't think that stuffing ridiculously bulbous bags of saline or silicone into one's mammary cavity makes them more agreeable, or beautiful, though I certainly can't argue about them being more valuable.
Big gazongas are big business these days. Crafting them and exploiting them have engendered an entirely new component of the Capitalist paradigm. Who needs oil for food, when you can have boobs for cash? I think it would be a close race when assessing which is the more profitable enterprise. Dr. 90210, the pervy creep, probably pulls down a salary several times that of our President.
Now, I would be lying if I said I hadn't dreamed of once again having gravity defying breasts, free of stretch marks, and topped with pert, rosy hued nipples that have obviously not been used as an infant chew toy and pumped to the very limits of their elasticity in an effort to gain more than 12 minutes away from said infant.
Yes, I've gazed upon my chest with wistfulness, remembering the days when I could walk about unfettered without danger of being thrown off balance. I have coveted nipples that point straight ahead, rather than than being cast forlornly downward, eternally vigilant of untied laces and abc gum.
And yet, for all my longing, I have not gone under the knife.
Why? Because I've realized that it is only my own breasts that I view with such critical eye. I find the natural breasts of other women perfectly lovely, and in fact, much more pleasing than the bloated, monolithic mounds that pornstars and pollyannas alike are having bolted on these days. For all their supposed superiority, they always manage to look slightly alien and decidedly uninviting. I simply can't imagine cradling a small head against such an unyielding breast.
We have allowed ourselves to be convinced of an unrealistic standard of beauty; one which exploits our already substantial insecurities by convincing us that only perfectly firm, youthful bodies and faces are acceptable. They offer us a plethora of creams, potions, and panaceas to "fix" that which nature has bestowed upon us. They endeavor to make us all into cookie cutter caricatures of womanhood; buxom, pouty lipped and perpetually pubescent.
Screw that. Webster's will be hearing from me.
Dear Sirs,
I submit that the term "Breast enhancement" is an egregious and misleading misnomer. I would like to respectfully request that the term be revised as follows:
"Breast Defilement"
I introduce the following as further proof that what is being perpetrated upon women is certainly not an "enhancement" of any kind.
In a word...Ick.
Thank you for your kind consideration.
Sincerely Yours,
Breast, I mean, Blog Antagonist
These posts originall published in the early days of my blog when about 4 people were reading me. I like them. I think they deserve another chance.
:?)